How To Measure
To order your Stealth Belt you will need 3 measurements: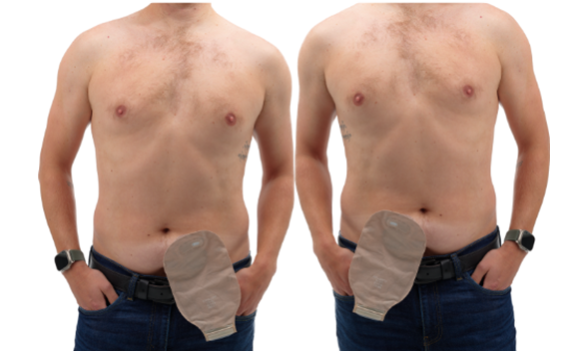 01.
What side of your body is your stoma located on? Look down at yourself.
(Right / Left)
Choose Left or Right side.
02.
WHAT IS YOUR BODY SIZE AT THE LEVEL OF YOUR STOMA/OSTOMY IN INCHES?
(Measure around your body both above and below your stoma.)
Take the average of these two measurements for your body size when ordering. We have even size numbers only. If you are in between sizes go up a size for looser fitting and down a size for tighter fitting. For the best fit please measure at your stoma level without going over your pouch or stoma.
Please measure your body size, in inches, at the level of your stoma. This is usually different from the normal pants measurement.
03.
What is the flange diameter of your ostomy bag?
(Watch the video to learn how to measure for your flange size.)
For a 2 piece appliance, measure the diameter from side to side of the plastic ring on the ostomy bag. For a 1 piece appliance, fold down the ostomy bag towards the center to expose the circular edge. Measure from one edge to the other edge.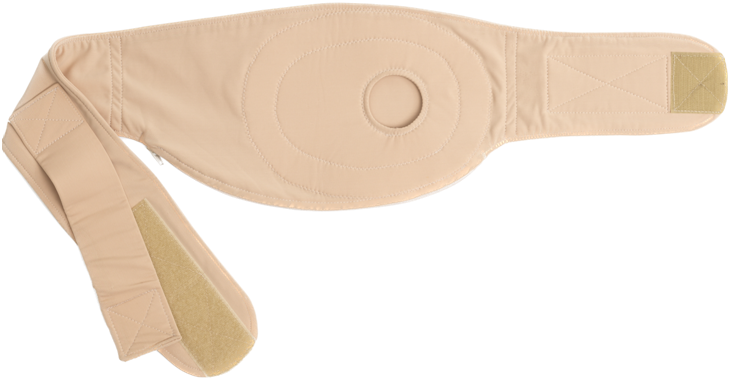 How To Measure For Added Hernia Support
Our Standard Hernia support option has 2 inches of additional support added around the flange hole and is available in all of our styles except our Slip-On belts. This support is designed to help address mild to moderate peristomal hernias. Please contact us directly to place an order.
If your hernia is advanced and requires additional support, we can customize the shape and style of the belt and added support to suit your needs.
Please contact us and fill out THIS WORKSHEET to determine the correct measurements for your belt. Pricing on hernia belts will vary depending on the complexity of the design.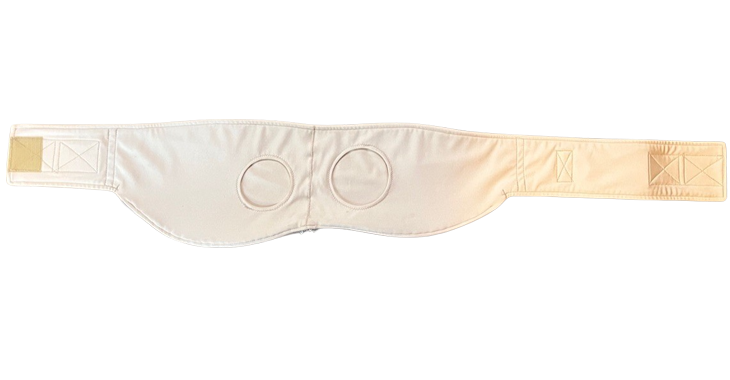 How To Measure For A Double Ostomy
Stealth Belts can be made for those who have two ostomies. The belt is made with two pouches and you have the option to choose most styles of belts, any size and a vertical or horizontal orientation. Fill out THIS WORKSHEET collect all measurements and then give us a call to place this custom belt order!
Features include:
2 Easy-access zippered compartments
Adjustable waistband
Lightweight moisture-wicking fabric
Vertical or horizontal orientation options for both pouches